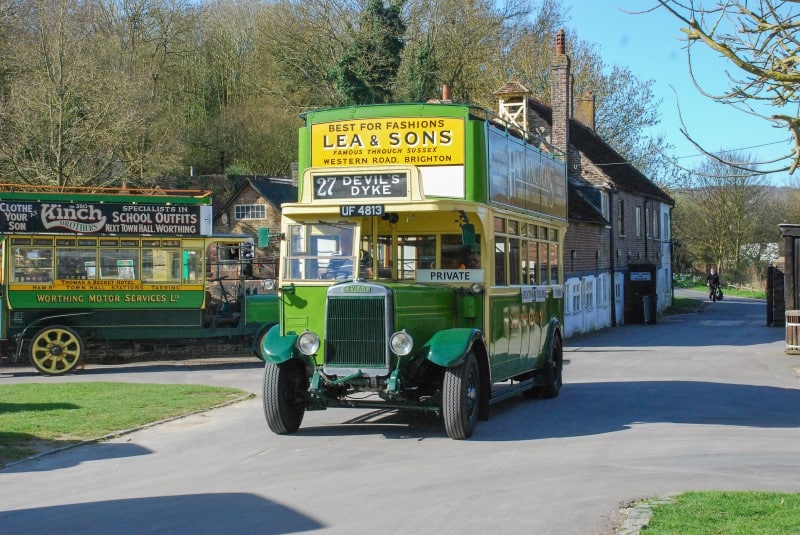 A former Southdown Motor Services bus has been acquired by The Southdown Omnibus Trust Collection and will soon be joining their fleet within the collection at Amberley Museum in West Sussex.
Leyland Titan TD1 (number plate UF 4813) was new to the Southdown Motor Services in the summer of 1929 and has been acquired by the Trust from Stagecoach where, until recently, the bus had been preserved as part of their Heritage Fleet. The bus came to Stagecoach following their acquisition of the successors to Southdown Motor Services.
This bus has been a regular sight on the roads of Hampshire and Sussex for many years and a regular visitor to events and rallies in the south of England, including the Goodwood Revival meeting.
It now joins the Trust's other vehicles housed at Amberley Museum where it will be preserved.
UF 4813 will be arriving at Amberley Museum later in the year after some maintenance work is completed and new parts are fitted to the front wheels.
About UF 4813
UF 4813 dates from 1929 and was originally number 813 in Southdown's fleet of buses. The chassis is a Leyland TD1 fitted with an open top double deck body by Brush of Loughborough. It is a historically significant vehicle being one of the first buses built on a specially designed low chassis, enabling passengers to board via a platform that is much lower than had previously been available. This feature became part of British double deck bus design right through until the mid 1960s.
The bus is a unique survivor of its type. It carries Southdown's traditional apple green and primrose yellow livery adorned with period advertisements.
UF 4813 joins the trust's fleet of seven other former Southdown buses dating from 1914 to 1937, which the public can see at Amberley Museum and ride on at the annual bus shows and some special Museum events. Its first outing in the ownership of the trust will be the Spring bus show on Sunday 30 April 2023. You can find out more about this and other upcoming events at Amberley Museum.
About The Southdown Omnibus Trust
The Southdown Omnibus Trust is a registered charity (No 1070513) formed with the purpose of demonstrating to the public all aspects of the design, building, function maintenance and operation of buses, coaches or other vehicles, plant apparatus and other equipment relating to the former Southdown Motor Services.
The Trust's collection of vehicles is unrivalled by any other regional collection and is unequalled in its historic range from as far back as the First World War.
Housed in three replica Southdown bus garages, the bulk of the collection is from two private collectors who amassed it over nearly half a century. One of the buses was bought for preservation as long ago as 1959 on its withdrawal from service.
The Trustees are grateful for a number of legacies that have provided the funds used to acquire historically significant vehicles such as UF 4813.