School visits are back on at Amberley Museum, with a range of new workshops to choose from for EYFS up to KS3!
Please note, we can currently only accept 60 children on site per day, apart from for the 'Journeys' workshop, where 90 can be accommodated from the same school.
We accept school bookings from Wednesday to Friday.
All visits include:
Welcome and orientation from our learning facilitators
Dedicated lunch and bag storage / quiet space
Ride on the train and 1980s shuttle bus
Access to all exhibition areas and nature trails
Option to visit the shop or pre-order goody bags
Pre-visit service (advised for teachers new to the site)
Most of our site is accessible to those with limited mobility, with the exception of our bus fleet, nature trails, the Billingshurst Signal Box and some viewing platforms.
TOP TIPS
Arrive by Train
Amberley Museum is just steps away from Amberley mainline train station. Why not let the train take the strain and reduce your school's carbon footprint? Book your group rail tickets through Southern Rail.
To discuss your requirements, or to make a booking, please contact the Learning Officer.
School Visit Admission Charges
| | |
| --- | --- |
| Child (EYFS) | £4.00 |
| Child (KS1-4, SEN) | £6.00 |
| Student (KS5+) | £8.50 |
| Accompanying Adult | FREE |
(The accompanying adult counts as part of your group ratio)
WORKSHOPS
Get the most out of your visit by reserving a hands-on, curriculum-linked workshop experience, led by our enthusiastic facilitators. Workshops are charged on top of site admission.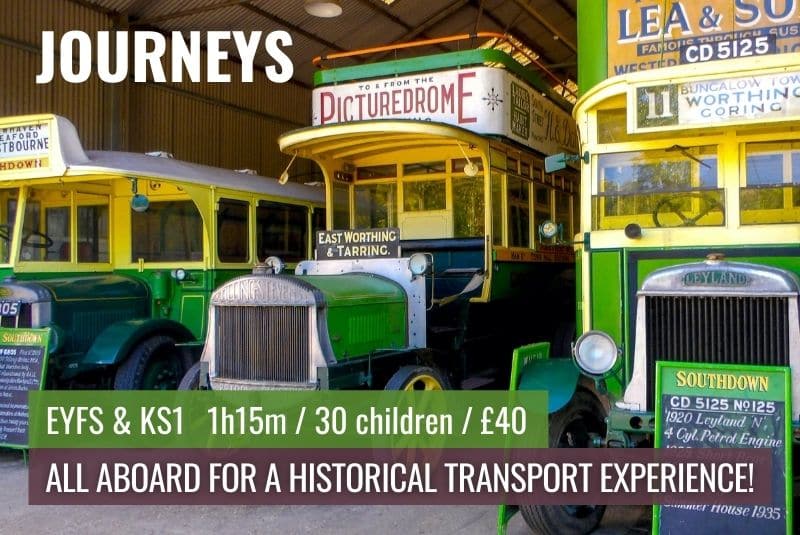 JOURNEYS - EYFS & KS1
Get up close to trains, buses, bicycles, cars and carts and hear about how people used to travel in the early 20th century.
Build a wooden wheel, clip your tickets then put on your travelling hats for a vintage bus ride.
Talk with our friendly volunteers, explore the museum collections and sing 'The Wheels on the Bus' together.
EYFS: Understanding the World, Mathematics, PSE, Expressive Arts
KS1: History, D&T, Science, Music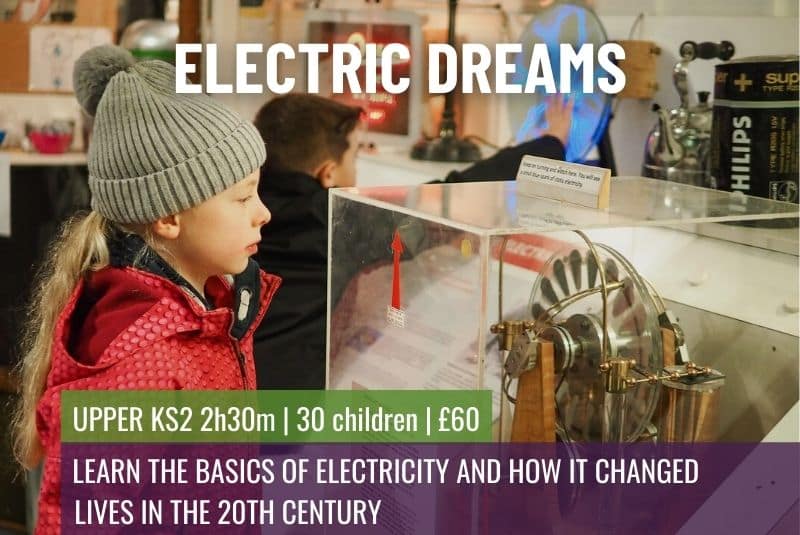 ELECTRIC DREAMS - UPPER KS2
High-voltage demonstrations, electrical appliances through time, early electric cars and bikes.
Learn about local electrical heroes and explore the collection with our activity sheet.
Work together to make a simple electrical circuit with a battery, powered by pennies.
KS2 Science: Electricity / History: British history beyond 1066 / D&T: Key events that have shaped the world / English: Spoken language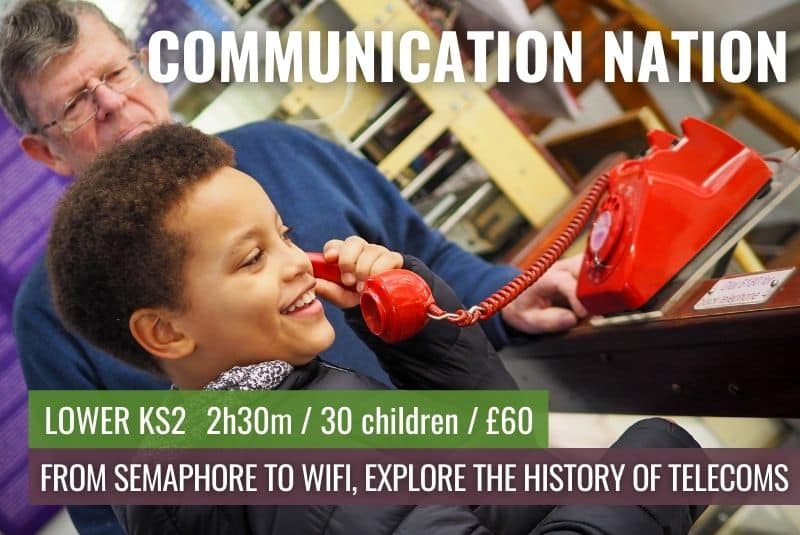 COMMUNICATION NATION - LOWER KS2
Replicas of Alexander Graham Bell's early telephones, undersea telegraph cables, satellite dishes.
Write and send a telegram, work together to send and unscramble semaphore messages.
Handle real museum objects including a rotary dial telephone and working Morse code key.
KS2 History: British history beyond 1066 / D&T: Key events that have shaped the world /
English: Composition, word reading, spoken language / Maths: Right angles, perpendicular lines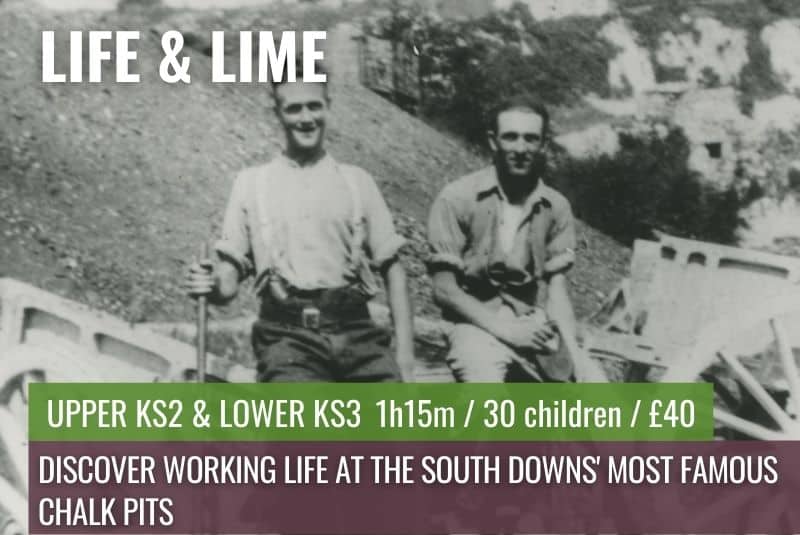 LIFE & LIME - UPPER KS2 & LOWER KS3
Explore huge Victorian lime kilns, workers' quarters and the impressive chalk face of the White Pit.
Dress up as pit workers and complete our 'Blast it, Cart it, Bag it, Ship it' challenge.
Use photographs, artefacts, maps and oral histories to investigate how the chalk pits changed over time
KS2 History: British history beyond 1066 / D&T: Key events that have shaped the world /
English: Composition, word reading, spoken language / Maths: Right angles, perpendicular lines
Self-led visits
With 36 acres of varied exhibits related to working life and industry, and two newly refurbished nature trails, Amberley Museum provides inspiration for innumerable lesson plans. Please download our site map or take advantage of a free pre-visit to help you plan your day, or ask about our FREE self-led resources relating to communications, electricity or the Industrial Revolution at the Amberley lime kilns.
Not finding what you're looking for?
Please check out School Outreach for loan boxes and virtual visits, or contact us to discuss creating a bespoke visit for your group. We are especially keen to work with SEN settings, secondary schools, FE & HE colleges to design an experience that suits your learning objectives and group needs.
COVID-19 statement
Amberley Museum is a large, mostly open-air site with plenty of space to explore at a safe distance from other visitors. We have been awarded Visit England's 'Good To Go' standard for our COVID-19 precautions, which continue to include one-way systems through some indoor spaces, plenty of hand sanitiser points, a dedicated lunch room and toilets reserved for schools on arrival and departure. All activities will be risk-assessed for COVID-19 (details provided on enquiry). As per normal, teacher pre-visits are recommended and can be arranged at the time of booking.
CONTACT LEARNING
If you'd like to discuss your requirements, make a booking or for any other queries, please email Learning@amberleymuseum.co.uk or call us on 01798 831370