We want all our visitors to have a great day out at the Museum and are working hard to make our site as accessible as possible: we hope that the information on this page helps you to plan your visit.
Contact information
If you'd like to talk to someone about your visit, need help using our online booking system, or would like to give us feedback about your experience at the Museum, please call our friendly office team on 01798 831370. You can also email us at office@amberleymuseum.co.uk.
Getting to the Museum
Amberley Museum
New Barn Road
Amberley, near Arundel
West Sussex
BN18 9LT
By car:
The Museum is located just off the B2139 from Storrington to Arundel, signposted to Amberley Museum and Amberley Station. If you are coming from the direction of Storrington, turn left into our car park after a sharp right-hand bend approaching the village of Houghton. If you are coming from the direction of Arundel, turn right into our car park just after passing under the railway bridge in the village of Houghton. You can use our free car park or bike racks during opening hours. There are eleven designated accessible parking bays at the front of our car park, and two electric charging points.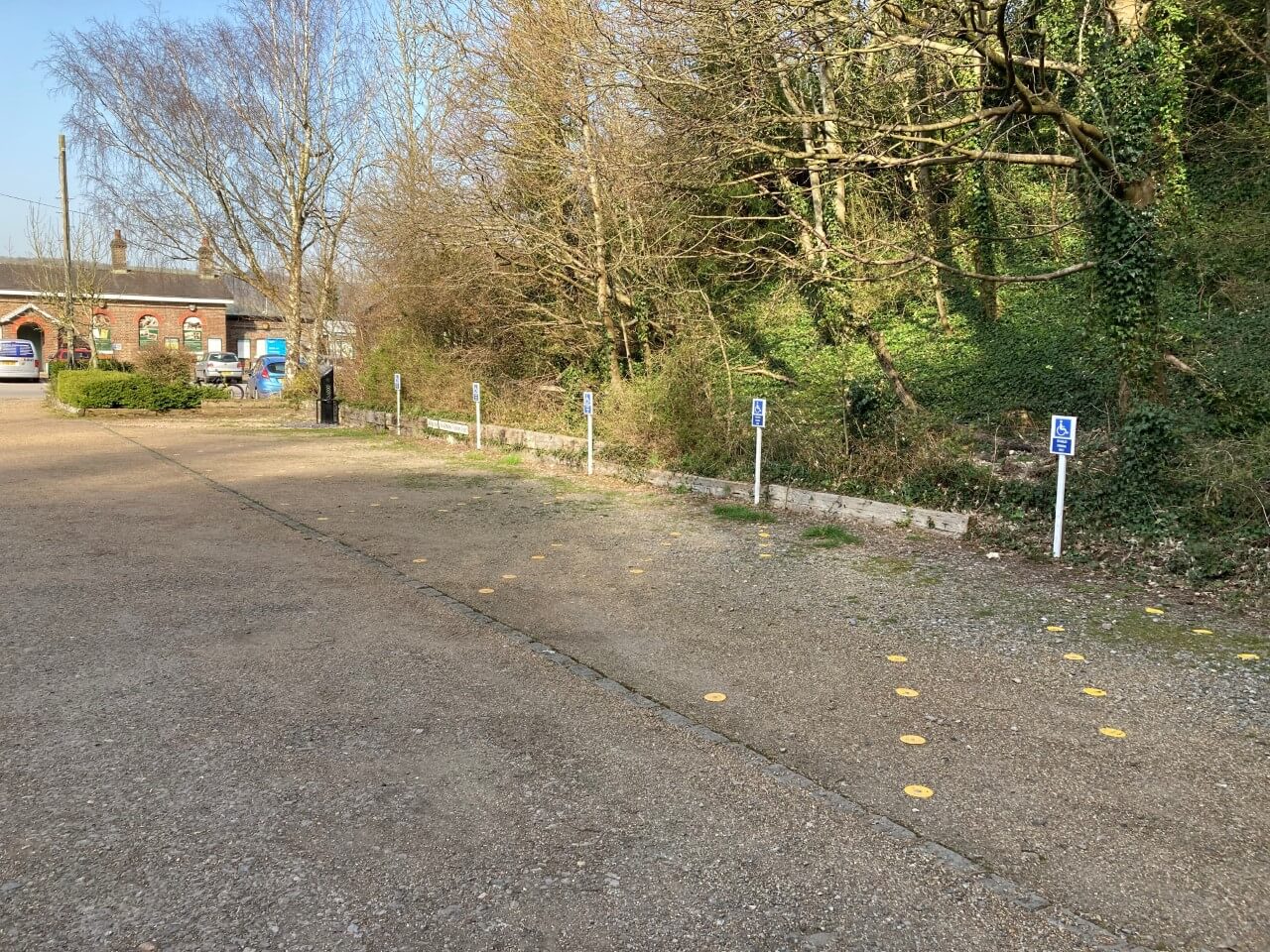 By train:
Amberley Museum is situated just metres from Amberley Station, on the Southern Railway line from Southampton to London Victoria.
By bus:
Unfortunately, you can't get to the Museum easily by public bus.
Once at the Museum
If you have a companion or personal assistant, they can attend with you for free. Please select 'Complimentary Pass' when booking online.
Access from the car park to the Museum is through an open gateway, down a 600ft/200m tarmac path.The gates are opened just before the Museum opens at 10am, and close at 4:30pm (4pm from November to February), with last entrance at 3:30pm (3pm from November to February). The entrance to the Museum is via the shop, where there is a ramp with a push button-activated door.
At the entrance, you can collect a site map and talk to members of our Welcome Team about how to get the most out of your visit.
You can use a quiet indoor space in one of our learning or meeting rooms. Please enquire at the office or phone us in advance on 01798 831370. There are also plenty of benches and secluded spots to relax around our large outdoor site.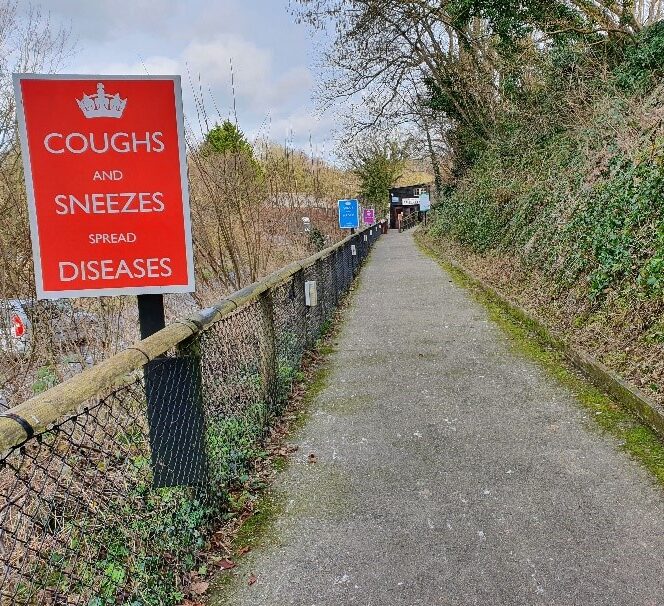 People with mobility impairments
Amberley train station is a category B3 station, with step-free access to platform 2 only (towards the south coast). Southern Rail operates a free, 24-hour Passenger Assist service: please call 0800 138 1016, text 0800 138 1018 or visit their website for help organising your journey.
Amberley Museum covers 36 acres of buildings, connected mostly by level tarmac or concrete paths. Walking between all the exhibits is a round journey of about 1 mile/1.5 kilometres, although you can also cover much of the distance by narrow-gauge train (wheelchair accessible) or bus (not wheelchair accessible). Two nature trails and a small number of paths indicated on your site map (which you will be given on entry) include numerous steps and steep slopes and are not wheelchair accessible. The only access to the Billingshurst Signal Box is via fifteen steep steps with a handrail.
Our narrow-gauge railway can usually accommodate at least one wheelchair per journey. If there is more than one wheelchair user in your party, please contact us in advance by phoning 01798 831370 or emailing office@amberleymuseum.co.uk so that we can arrange for our accessible train carriage to be available (this can take up to 4 wheelchairs per journey).
Unfortunately, none of our buses are wheelchair accessible due to their age.
There are lots of picnic benches and seating around the Museum where you can rest. There are also some chairs inside the exhibition buildings.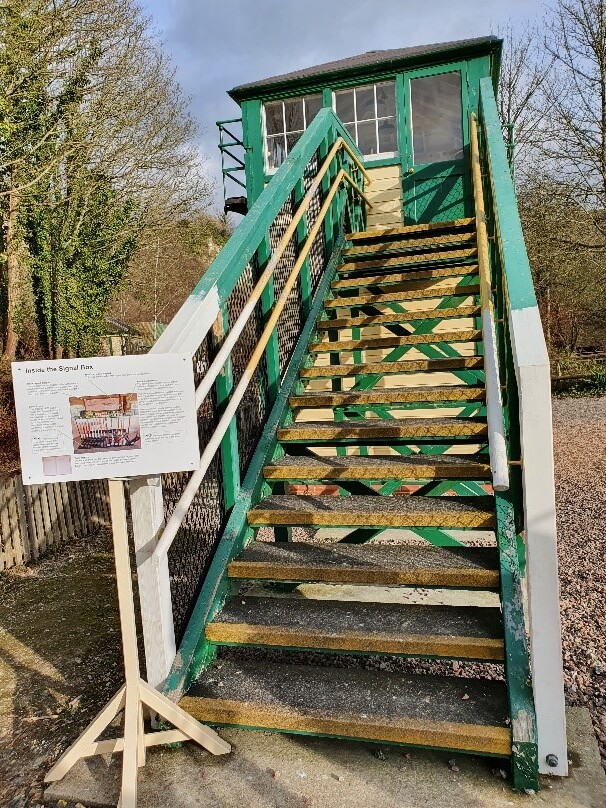 Accessible toilets can be found at three points around the site: opposite the Print Shop, in the Café and opposite the Connected Earth building.
The nearest Changing Places toilet is at Aldingbourne Country Centre, near Chichester (PO18 0JP), which is a 12-minute drive from the Museum.
People with autism
You will hear many loud sounds such as ringing telephones and bells in the Connected Earth building. These can be turned off on request: please enquire at the office or phone us in advance on 01798 831370. Other areas you might find noisy include the stationery engines building, the narrow-gauge railway and the Café.
You may notice strong smells associated with old vehicles in Connected Earth, the Fire Station, Village Garage and Bus Garage. There is a coal furnace in the Blacksmiths' that smells strongly at times.
People with a learning disability
You may touch many objects around the Museum that are not behind barriers or in display cases. Feel free to use the hand sanitiser points if you so wish.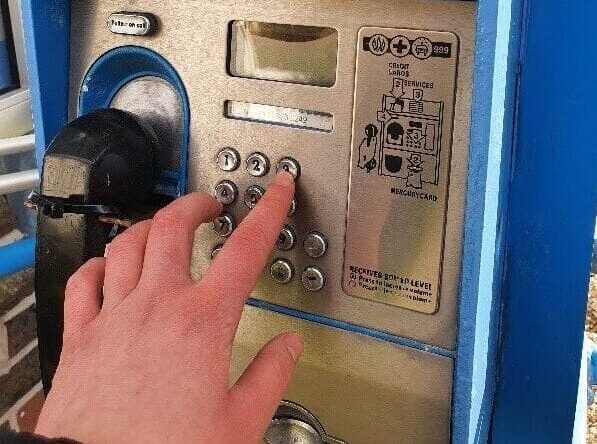 Blind and visually impaired people
We are a dog-friendly site. Your guide-dog is welcome in all indoor and outdoor areas, and can make use of a number of water bowls around the Museum, including the Café. You can relieve your dog anywhere within the open-air part of the site: dog refuse bins are located outside the café and Connected Earth building.
We do not currently have audio description around our site.
You are welcome to make use of several dog bowls positioned around the Museum site.
Deaf or hard of hearing people
Staff in the shop and Café may be wearing face masks but can switch to a transparent visor to help make themselves understood: please do not hesitate to ask.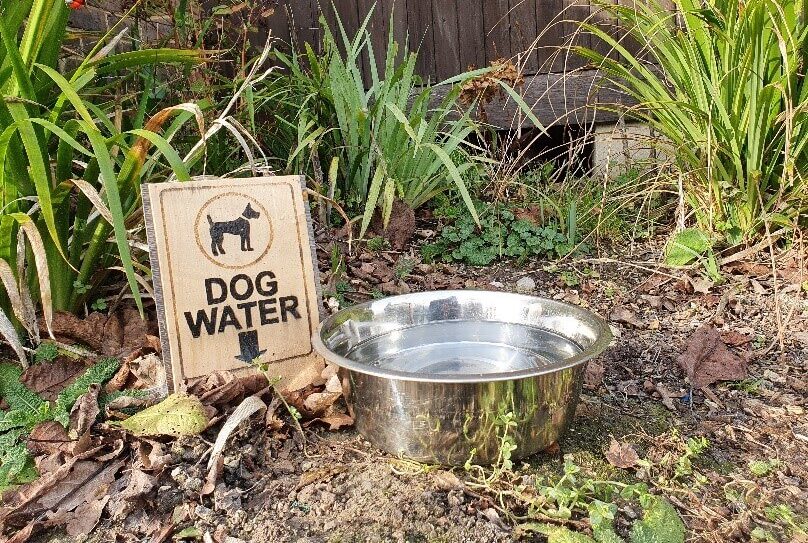 People with dementia
Several of our staff are trained Dementia Friends.
Amberley Museum is a large, mainly outdoor site. Walking between all the exhibits is a round journey of about 1 mile/1.5 kilometres, although you can also cover much of the distance by narrow-gauge train (wheelchair accessible) or bus (not wheelchair accessible).
Most of the site has level access. Routes involving steps or steep slopes are indicated in orange on the sitemap you will receive on entry. This includes both nature trails.