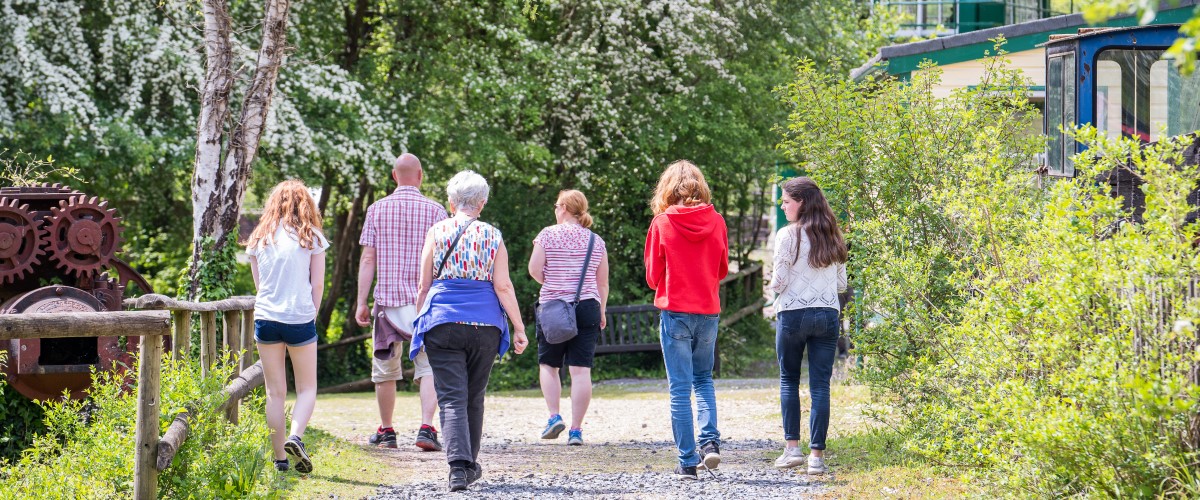 Located in the picturesque South Downs, a few miles from Arundel, West Sussex, Amberley Museum is perfect for regional and national group visits near the south coast. We offer self-led tours and an option for pre-booked refreshments in the Limeburners Café.
Coach parking is available with a large free car park on hardstanding adjacent to Amberley Rail Station.
Discounted rates apply for groups of 10 or more paying visitors, booked in advance:
Discounted group entry
Adults £13.50
Seniors (60+)/Students £11.50
Children (age 5-17) £6.50
Under 5s FREE
What's included:
Free coach parking
Coach Driver hospitality
Free travel on our narrow-gauge railway and bus service
Adults: Cake and Hot Drink £5
Children: Juice and Cookie £3
For all: Lunch (Sandwich or Soup, Cake & Hot Drink) £8
Please note the lunch option is not available on Event Days or Bank Holidays.
The Limeburners Café serves a selection of hot and cold meals from 12-2pm. Hot and cold drinks, sandwiches, cakes and snacks from 10am-4.30pm (4.00pm in the Winter Season). Lunches can be pre-booked – please get in contact for details.
Amberley Chalk Pits – Curator's Tour
45-60 minutes (max. 32 people) £60
Join one of the museum team for a tour around the site looking at the history of the working chalk quarry. Discover why the quarry first opened and how it developed over time from the 1840s through to the 1960s. Find out more about the experiences of workers at the site and get up close to some of the original buildings and tools used in the past. Please note that, while the tour will not take in the entire 36 acres of the Museum site, visitors should be prepared to cover some distance on foot and should bring weather-appropriate clothing. Not all of the area is on level tarmac or concrete paths. If there are any wheelchair or mobility scooter users in the group, please let us know in advance as it may be possible to adapt the tour to accommodate them.
Orientation Talk
20 minutes (max. 16 people) £30
Get a sense of the story of Amberley Museum past and present as part of this short orientation talk given by one of the museum team. Hear about the range of industrial trades found across the site, the traditional crafts that come alive here and the natural heritage of this unique setting. This is a good way to find out about the highlights of the museum before you go out to explore for yourself!
Amberley Museum in 10 Objects
20 minutes (max. 16 people) £30
What is special about the collections at Amberley Museum? Find out more about the variety of objects that can be seen in the museum and discover some of the little-known stories of those collections as part of this interactive object handling session.
High Voltage Demonstration
20 minutes (max. 16 people) £30
Witness arcs and sparks in our High Voltage Laboratory, with demonstrations of a Jacob's Ladder, Wimshurst Machine, Large Impulse Generator and Tesla Coil, operated and explained by our knowledgeable volunteers.
To enquire about making a booking please telephone 01798 831370 option 4, email: office@amberleymuseum.co.uk or complete the booking form below. Please provide details of the proposed date of your visit and expected numbers.
Payment: For smaller groups, and non-travel/coach companies, payment is required upon arrival. Travel and coach companies may be invoiced after the visit, with confirmation of visitor numbers required upon entry. We regret that we cannot accept American Express payments.
If you are interested in booking a school visit, please head over to our 'Learn' section.
For event or car club bookings: events@amberleymuseum.co.uk
"Our Group of 48 visited and everyone thoroughly enjoyed their time! They have retro buses and a train to take you around the site, as well as old buildings. We even discovered a James Bond film was partly filmed on site which the group found amazing. There was something for everyone to enjoy!"
Group Leisure & Travel Magazine – Ashford Active Retirement Association Review May 2023
"This place is a total gem! We were there for nearly six hours and we still didn't do all of it. We were in a group of mixed ages and there was Something for everyone."
Tripadvisor Review May 2022
"The cafe was fab, all staff and volunteers extremely warm, friendly and knowledgeable and the free bus and train ride rides were an absolute delight."
Tripadvisor Review May 2022
"A fantastic day out in a wonderful location. So much vintage to see and enjoy, and a great cafe where you can plan your route. Highly recommend it."
Google Review May 2022
"Best day out ever in West Sussex. So relaxing walking around. Went on an open top bus, had a ride on train and visited the fabulous woodyard."
Tripadvisor Review March 2022