Volunteers are vital to the success of the Museum. We are always happy to welcome new people to volunteer in a variety of roles.
Whatever your stage in life, volunteering at Amberley Museum can offer an opportunity to learn new skills, share your knowledge and experience while meeting new people and actively supporting your local Museum.
Some volunteers contribute at Amberley for just a season, and some have been here for over 40 years!
BUS DRIVERS & BUS MAINTENANCE
To drive visitors onsite in our vintage buses throughout the year.
Help keep our buses and garage exhibit areas sparkling clean for visitors to enjoy!
Minimum age of 30 years and above.
BUS RESTORATION
Coach building, upholstery and detailed painting skills needed to work on our projects.
CRAFTS
An opportunity to showcase your traditional craft skills at the Museum or learn a new skill to demonstrate for visitors.
EVENTS TEAM
Support our busy Event days by volunteering to help with everything from marshalling, answering visitor queries to providing refreshments.
GROUNDS & GARDENING
If you have a passion for nature conservation or gardening please help us nurture our beautiful site set in the heart of the South Downs National Park.
GROUNDS & MAINTENANCE
Help keep Amberley looking is best throughout the year! There are always jobs to do from carpentry and plumbing to decorating and bricklaying.
LEARNING
Assist with school workshops, school visits and family activities onsite throughout the year.
WELCOME TEAM
Help to inspire and welcome our 50,000+ visitors every year as they explore Amberley Museum.
RAIL GROUP
Join our busy train crew operating a narrow-gauge railway for visitors every day we are open. Full training and support given for Drivers, Guards and Engineers. Minimum age for Industrial Drivers 18 years and above/Steam Drivers 21 years and above.
Minimum fortnightly commitment required of 9am-5pm please.
SPECIALISED SKILLS
Do you have particular skills relevant to our Museum Collections you would like to volunteer? We would love to hear from you if your skills or experience include engineering, transport, printing, plumbing, energy, communication and rural trades & crafts.
Meet new people and make new friends
Join our dedicated volunteer team – over 300 strong!
Learn new skills and gain valuable experience
Share your own experience and knowledge
Free volunteer entry (plus one guest) throughout the year*
Free tea, coffee and biscuits in the Museum café and Volunteer Room*
10% discount on all purchases in the Museum café and shop*
Receive our in-house newsletter 'Noticeboard'
Free entry to Brooklands Museum* *on production of a valid volunteer badge.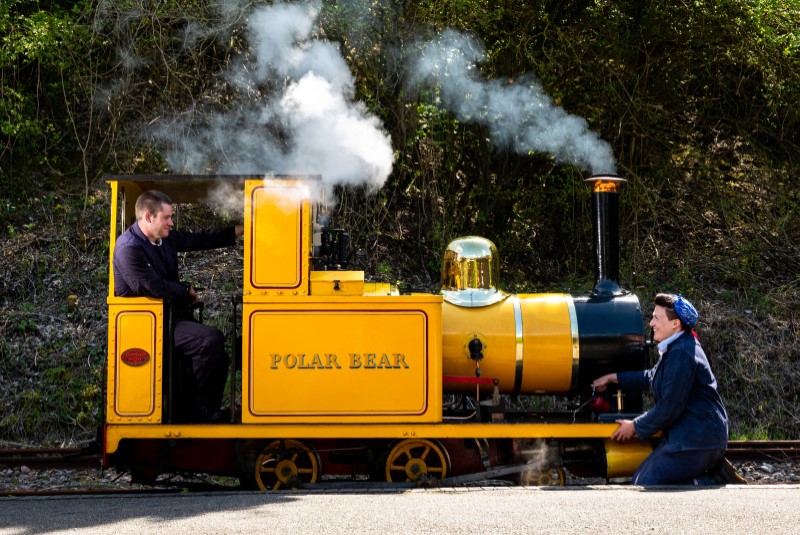 WILL I BE PART OF A GROUP?
Museum volunteers are organised into teams, and for each of these, there is a designated 'Head of Group' who leads that team, communicating with the Museum and organising their team rotas. We aim to have as many of the Museum areas open as possible every day, but this is dependent on having enough volunteers to cover the roles needed.
DO I NEED ANY PREVIOUS TRAINING?
When a new person joins the volunteer team they will usually take part in taster sessions with one or two groups to determine which role(s) suits them and the Museum best. They will be expected to complete introductory training to ensure they are aware of Health & Safety and Safeguarding policies and procedures and understand what the Museum does and the role of the volunteer and staff within it.
WHAT ROLE WILL I BE OFFERED?
The volunteer role offered to the new person is determined by the skills that they bring to the Museum, and also by where volunteers are needed. Full training and support for your role will be given. Please understand that sometimes we are not able to offer a volunteer role at the Museum and this is entirely at the Museum's discretion.
HOW MUCH TIME DO I HAVE TO VOLUNTEER FOR?
Volunteers can give as much time to the Museum as they would like. The Museum takes a flexible approach but expects everyone to communicate with the staff or Head of Group about their availability. If, for any reason you can't come in please let us know so we can make alternative plans.
WHAT AGE CAN I BECOME A VOLUNTEER?
Anyone 18 years and older can apply to become a volunteer. Due to the supervision legally required to comply with Health & Safety and Safeguarding requirements for people under 18 years, we are not able to offer routine volunteering roles to younger people, except for formal work experience placements or specifically organised events. We aim to be as inclusive as possible and support all our volunteers appropriately.