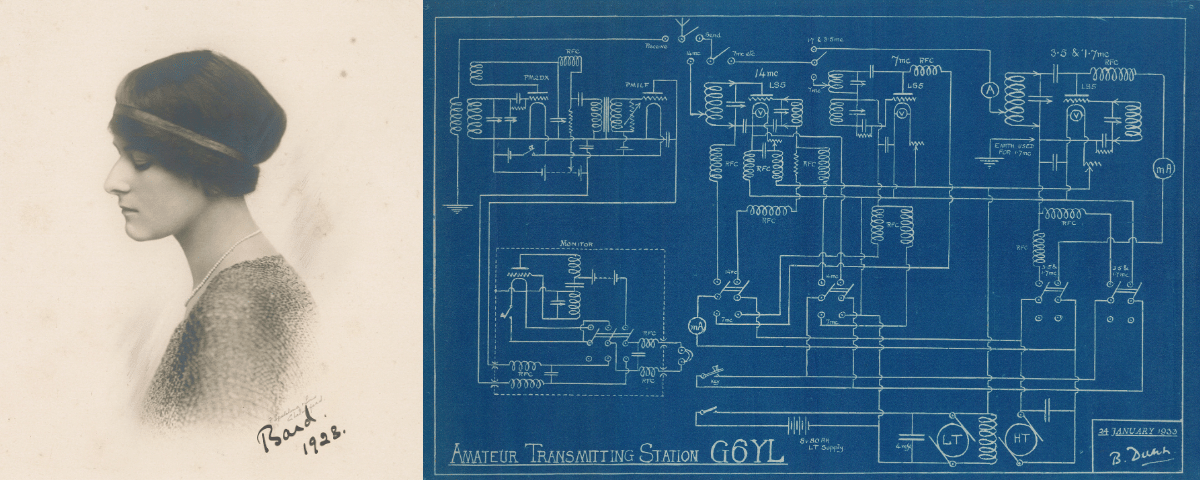 Barbara Dunn | First British woman to qualify for an amateur radio licence, in 1927.
Barbara became interested in amateur radio after her father bought a wireless set in 1923. She taught herself Morse Code to decipher the transmissions from nearby ships and coastal stations that were causing interference with their wireless set. Building most of her transmitting and receiving equipment herself, she operated from her family home in Essex, and later Northumberland.
Barbara was proud to have passed the exam 'with "flying colours", and far better than most of the men.' She could key out Morse Code at 25 words per minute (wpm), more than twice the speed required.
During World War II, Barbara was one of 1,500 Voluntary Interceptors who listened for German transmissions for the Radio Security Service. She was also part of a network of radio operators poised to relay messages in the event of an enemy invasion.  This work was only made public in 1979.
Barbara took part in the amateur radio trend for 'DXing' or communicating with stations in distant locations – something that required a lot of technical skill. She continued this passion well into her 70s, when she joked that she should change her unique call sign from 'G6YL' – YL standing for 'Young Lady' – to 'G6OG' ('Old Girl').
Get Involved!
This is an ongoing project to highlight people who have made significant contributions in technology and engineering.
Who do you think should be featured? Please submit your suggestions to curator@amberleymuseum.co.uk